There's no getting around it. If you are a watch collector, you already own, or aspire to own, at least one perfect replica Patek Philippe watch in your wardrobe. I know collectors who own upwards of 20 – some that have been custom-made for them. This legendary brand is a "holy grail" watch thanks to its incredible technical expertise and hand craftsmanship. A perfect example is the Patek Philippe Ref. 6301P Grande and Petite Sonnerie and Minute Repeater watch just unveiled last week. While everyone else was jumping on the bandwagon to write about this watch, we were studying it – to get the most out of its  "world-first" status for the brand and to give our readers the true low-down on why this watch will be legendary. We event talked to Patek Philippe CEO, Thierry Stern, about the timepiece. Here, we give you four reasons why this watch might be the must-have piece for collectors of all time.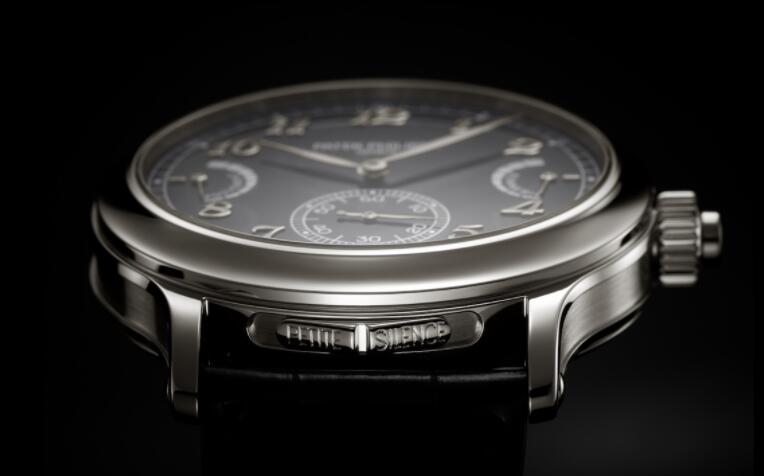 Patek Philippe Ref. 6301P Is A World First For The Brand
It is really hard to believe that prior to the unveiling of this chiming watch, the venerable Patek Philippe had no such animal in its stable. Yes, the brand is a pioneer and leader in the realm of chiming watches, and yes, Thierry Stern (and before him, his father Philippe) listens to every single chiming watch before it leaves the Manufacture and either approves or disapproves of its sound, cadence and harmony. However, in the past, every significant high-complication chiming watch was paired with other high complications to form a grand complication timepiece. Other functions include calendars, astronomical indications, tourbillon escapements and more.
This watch, which also boasts a small complication of a jumping seconds, is all about the sound of time. The watch combines the grande sonnerie (that chimes the hours and quarters in passing) and petite sonnerie (that chimes the hours in passing)– with a Silence mode (to quiet the chiming of each) with a minute repeater that strikes the hours, quarter hours past the hour, and minutes past the quarter hour on three gongs. It is a magnificent audible watch set inside a platinum case that is just over 44mm – a very wearable grand complication. Just the fact that this is the first watch to boast only these functions is reason enough for it to become a legendary piece.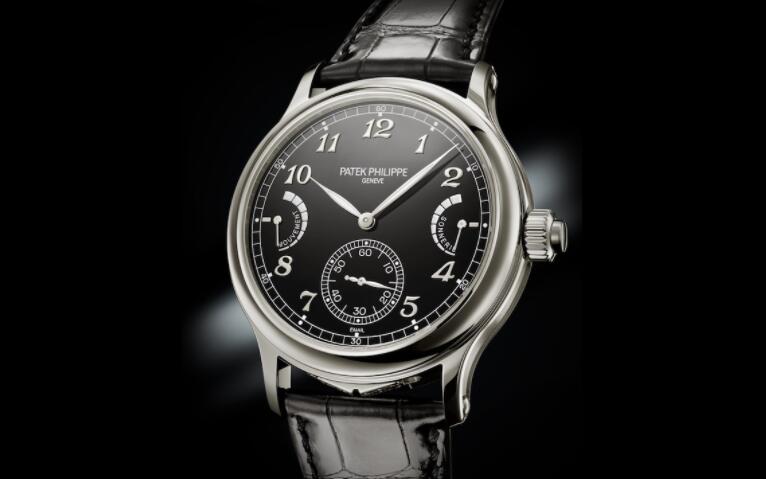 Patek Philippe Ref. 6301P Boasts A Jumping Seconds
Inspired by the Grand Master Chime watch that Patek Philippe released for its 175thanniversary back in 2014, the Ref. 6301P boasts an all-new movement that was more than five years in the making. It includes a dead-beat (jumping) seconds. Yes, we realize that the terms dead-beat and jumping do not correlate, but deadbeat is a misnomer put on the function by the Swiss watch industry. In fact, the technology behind a dead-beat seconds actually manifests itself in a constantly jumping second hand that is wonderful to watch. The second hand doesn't sweep around the dial, it jumps from second to second – offering a tiny ballet dance on the dial.
A jumping seconds is no easy feat to accomplish, but then that is precisely why Patek Philippe opted to include the small complication in the watch. As CEO Thierry Stern says, "People like to see something moving on the dial, so that added jumping seconds was important. A jumping second is not easy, but that's why I wanted it."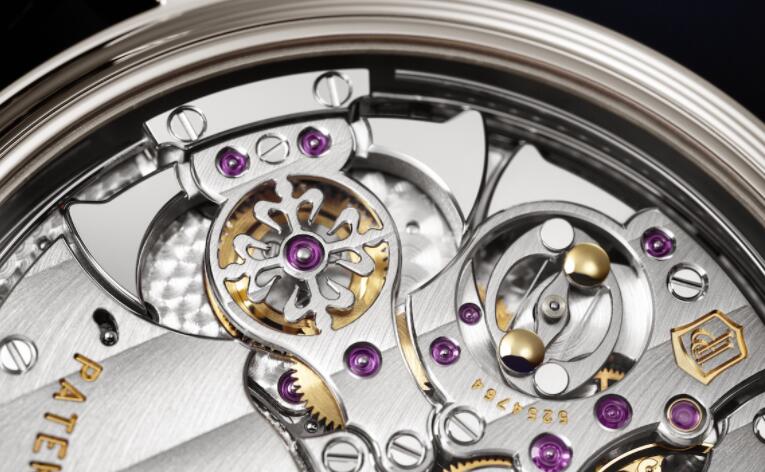 Patek Philippe Ref. 6301P Is Powered By A New Movement With Two Patents
As mentioned, the Patek Philippe Ref. 6301P was more than five years in the making, with a good portion of that time devoted to the creations of the new caliber GS 36-750 PS IRM manual wind movement. An evolution of the Caliber300 that powered  Patek Philippe Grandmaster Chime Ref. 6300, this movement is chocked with 703 individual components – each finely finished to Patek Philippe's high standards in order to receive its craftsmanship and finishing seal.
The new movement – complete with three classic gongs, also holds two patents, one for the striking mechanism and the other for the jumping small seconds at 6:00 on the dial. Two series-connected twin mainspring barrels assure power reserve of 24 hours for the strike-work mechanism and of 72 hours for the movement. The beautiful craftsmanship of the movement and its technological advancements can be viewed via the sapphire case back.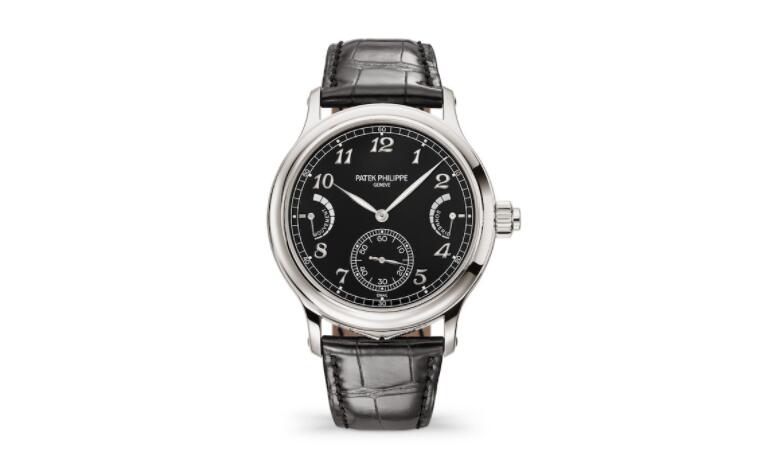 Patek Philippe Ref. 6301 Has A Classic Yet Challenging Aesthetic
One of the most striking things about the new Ref. 6301P watch is its subdued design. According to Thierry Stern, "When it comes to such a complicated watch,  it has to have the DNA of the brand, and that is always to stay discreet, beautiful and understated. You want to be able to walk down the street and not have a watch that is too noticeable."
For those reasons, Stern opted for a platinum case – despite it being difficult to achieve prime sound in platinum – and for a black Grande Feu enamel on 18-karat gold dial with a high-gloss glazed finish. The dial is harmoniously configured with the two power reserve indicators at 3:00 and 9:00 respectively and the subsidiary jumping seconds dial at 6:00. What is a surprise on this watch is the luminescent coating of the numerals – a bit of the unexpected in such a classic watch. This is also an important feature adding to the uniqueness and value  of the timepiece.
Additionally, the brand's expert watchmakers were able to achieve incredible sound emanating from a platinum case – another difficult feat. Also, the material is difficult to work with because of its hardness, but the brand managed to create an elegant case with satin-finished flanks and polished case. Indicating it is platinum, Patek Philippe sets a small diamond at 12:00 (instead of at 6:00 for most of its platinum watches). The 44.8mm case is humidity- and dust-protected but is not water resistant. It features another rare option from the brand: an interchangeable sapphire case back and solid case back.